---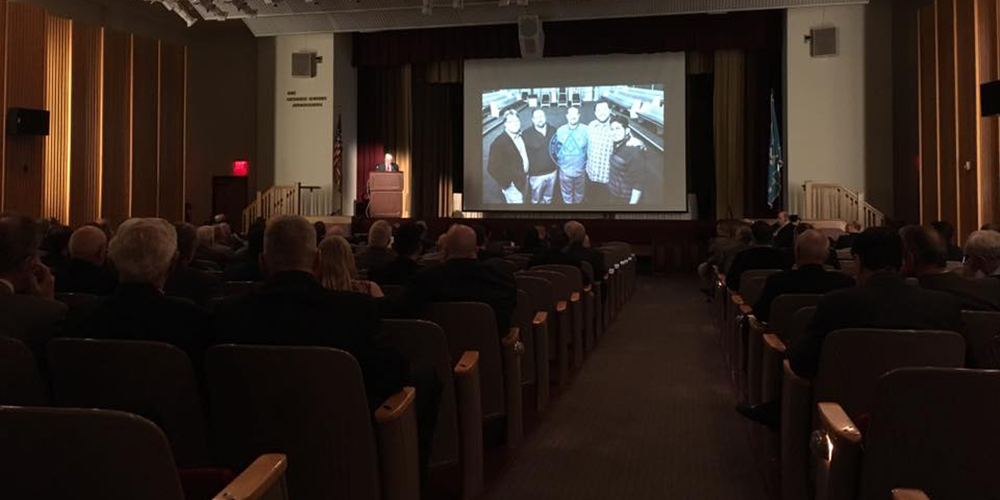 Registration Information
Our next symposium will occur on Saturday, October 23, 2021, at the Masonic Village at Elizabethtown, Freemasons Cultural Center, located at One Masonic Drive, Elizabethtown, PA 17022.
You must pre-register for the event at the link below.
Masks are mandatory at all times for all attendees.
Registration opens at 8:30 AM. The program will begin at 9:30 AM.
Register of the Symposium Here
If you would like to watch the live stream of the symposium, please use this link on the day of the event.
Speaker Information
Bro. Chic Cicero 
Topic: Light in Extension: The Masonic Roots of the Hermetic Order of the Golden Dawn
Charles "Chic" Cicero was born in Buffalo, New York. An early love of music, particularly of the saxophone, resulted in Chic's many years of experience as a lead musician in several jazz, blues and rock ensembles, working with many famous performers in the music industry. Chic's interest in Freemasonry and the Western Esoteric Tradition resulted in research articles on Rosicrucianism and the Knights Templar, printed in such publications as "Ars Quatuor Coronatorum" and the "1996-2000 Transactions of the Metropolitan College of the SRIA." Chic is a member of several Masonic, Martinist, and Rosicrucian organizations. He is a Past Grand Commander of the Grand Commandery of Knights Templar in Florida (2010–2011), and he currently serves as Chief Adept for the Florida College of the Societas Rosicruciana in Civitatibus Foederatis. He was also a close personal friend and confidant of Dr. Israel Regardie. Having established a Golden Dawn temple in 1977, Chic was one of the key people who helped Regardie to resurrect a legitimate, initiatory branch of the Hermetic Order of the Golden Dawn in the United States in the early 1980s. He met his wife and co-author, Sandra Tabatha Cicero, shortly thereafter.
Both Chic and Tabatha are Chief Adepts of the Hermetic Order of the Golden Dawn as re-established by Israel Regardie (www.hermeticgoldendawn.org). The Hermetic Order of the Golden Dawn, of which Chic is the G.H. Imperator and Tabatha is the G.H. Cancellaria, is an international Order with temples in several countries. Tabatha is also the Supreme Magus (Imperatrix) of the Societas Rosicruciana in America (www.sria.org). Chic and Tabatha share an enthusiasm for Ceremonial Magic and the Hermetic arts. Their books, which are published by Llewellyn, include The Golden Dawn Magical Tarot (kit), Secrets of a Golden Dawn Temple, The Essential Golden Dawn, Tarot Talismans, The Babylonian Tarot, and Self-Initiation into the Golden Dawn Tradition. They have also edited and annotated new editions of Israel Regardie's classics The Middle Pillar, The Tree of Life, A Garden of Pomegranates, and The Philosopher's Stone.
Sandra Tabatha Cicero
Topic: Images of Initiation: The Hermetic Tarot in the Western Esoteric Tradition
Sandra "Tabatha" Cicero was born in rural Wisconsin. Her areas of interest include drawing, painting, poetry, theater, dance, and printmaking. A lifelong fascination with the creative arts has served to inspire her work in the magical world. After graduating from the University of Wisconsin-Milwaukee with a Bachelor's Degree in Fine Arts in 1982, Tabatha worked as an entertainer, typesetter, editor, commercial artist, and computer graphics illustrator. In 2009 she obtained an Associate in Science degree in Paralegal Studies. Tabatha is a member of several Martinist and Rosicrucian organizations. She met her husband and co-author Charles "Chic" Cicero in the early 1980's and the Golden Dawn system of magic has been her primary spiritual focus ever since. Tabatha spent five years working on the paintings for The Golden Dawn Magical Tarot which she began at the encouragement of Israel Regardie.
Bro. Piers A. Vaughn
Topic: An Introduction to Martinism and its Spiritual Relationship to Masonry.
Piers A. Vaughan was born in Brighton, England, and attended Brighton College, as well as Oxford and Cranfield Universities. He was an avid musician, singing in a local church, playing several instruments, conducting and composing; he was also a keen fencer, and enjoyed appearing in local plays. He even appeared as an extra in 'Star Wars' and 'Quadrophenia'! He received an MA in Psychology, before going on to complete and MBA and later an MA in Divinity, then worked in international banking in England, Germany and Switzerland, before settling in the United States in 1993.
His Masonic membership began in England in 1979, where he joined a number of Orders prior to joining St. John's Lodge No. 1, A.Y.M. in New York, where he has served twice as its Master and has traveled extensively with the Lodge treasure, President Washington's Inaugural Bible, giving talks on it in a number of States. He was Grand High Priest of New York State in 2014, and is Grand First Ancient in the SRICF, a 33o in the Ancient Accepted Scottish Rite, and has served in the East for the majority of Masonic Bodies. He has traveled extensively across the USA and in many countries abroad giving lectures on subjects ranging from history to symbolism and the esotericism of Masonry. He has had papers published by the A.A.S.R. S.M.J. journal 'The Plumbline', the S.R.I.C.F. 'Fama', and the Masonic Study Society, among others. An interest in 18th Century French Masonic Ritual has also led him to translate a number of important treatises and rituals into English. In 2019 he was inducted into the Society of Blue Friars, a prestigious invitational society which recognizes published Masons.
He is also very involved in a number of Orders outside of Freemasonry, predominantly ones which are descended from European Esoteric groups, and is also Patriarch of the Apostolic Church of the Gold & Rosy Cross (ACGRC), a church descended from the Pre-Nicene Church of Richard, Duc de Palatine. He also possesses lines from the Order of the Pleroma, a group of pansophic rites handed down from John Yarker, and is also National Grand Aster for the Martinist Order of Unknown Philosophers (MOUP).
He is the author of "Renaissance Man and Mason", "The Capitular Development Course", and has published translations of Louis-Claude de Saint-Martin's 1775 book "Of Errors & Truth",  "Natural Table", and Papus' 1893 book "Elementary Treatise of Practical Magic", as well as several others, through his publishing house Rose Circle Publications, for which he also runs a Blog (rosecirclebooks.com) . He is currently working on other translations of seminal French books in order to bring them to the English-speaking world.
Piers is an Esoteric and Masonic lecturer and writer; a bishop in the Independent Catholic tradition; an avid translator of old French texts; a traveler and a perpetual student.
---
Upcoming Academy Dates
Saturday, March 19, 2022
Saturday, October 22, 2022